The Journey of the Waters of Oklahoma and Arkansas (WOKA) Began with a Visionary Dream 
The vision of WOKA began in 2011 in a conversation between Ed Fite (Water Quality Manager) and David Cameron (former city administrator) and M.L. Van Poucke, long-term serving mayor for Siloam Springs, Arkansas. Their city-owned and operated Lake Frances, an impoundment built in the upper reach of the Illinois River in Oklahoma, was originally a lake approximately 700 surface acres in size and used as the city's raw water supply. In May 1990, a portion of the main spillway area failed during a flood event. Some 21 years after the breach, David and Moose mentioned that the city was partnering with the Walton Family Foundation to build a small "two drop" whitewater park at the Fisher Ford area on the Illinois River, approximately seven miles upstream of Lake Frances, in Arkansas. 
Ed Fite later contacted David Cameron to suggest a similar project immediately adjacent to the Lake Frances Dam, building a whitewater course around that structure. Approximately six months later, David revealed that Foundation officials were contemplating the concept, sparking a sequence of discussions, a design charrette organized by the University of Arkansas, and ongoing meetings.
The former Oklahoma Scenic Rivers Commission carried much of the water on the run-up to WOKA coming to fruition. When the Commission was consolidated by an Act of the Oklahoma State Legislature (effective July 1, 2016) into the Grand River Dam Authority, the WOKA Project began to solidify. Ed continued to be involved in scoping the project through formal planning, Section 404 CWA permits, selection of design-build contractors, and securing the funding. 

The principles who are to be credited for pulling the project together are Holly Moore, Director of GRDA properties; Richard "Jared" Skaggs, Director of GRDA Outdoor Recreational Experiences; Laura Hunter, Executive Vice-President of GRDA Shared Services; and, Mike Brown, Special Projects Director. These four individuals have been responsible for shepherding WOKA to its reality. Their work has been supported by hundreds of groups, agencies, tribal organizations, and individuals who share their commitment and passion. 
The Walton Family Foundation have made a generous, quality-of-life investment that will benefit future generations residing in, working in, and recreating the Illinois River Basin.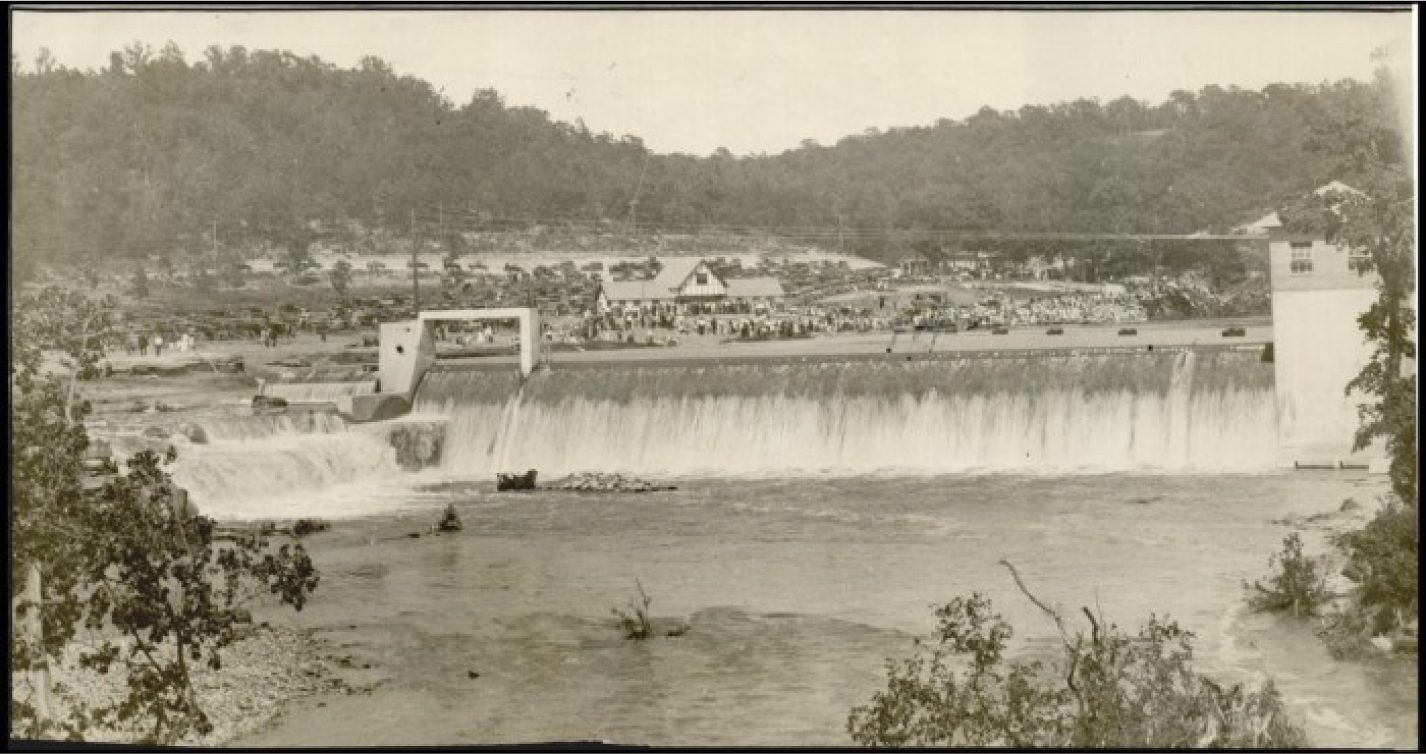 Grand Opening of Lake Frances Dam in 1931 with folks in the background enjoying the Lake Frances Resort.